It's only the second day of gamescom 2013, and we've already seen some stunning play by the various StarCraft II professional players -- both those playing in the World Championship Series Season 2 Finals, and those showing off their skills in show matches at our booth.
For those still in the competition, there's $150,000 in prize money at stake, plus WCS points which go towards qualification for the BlizzCon Global Finals later this year. Who will prevail? You can follow all the action via www.StarCraft2.com/WCS.
Over at the Blizzard booth, we invited pro players to clash on our stage, away from the pressures of the big competition. Yesterday, LiquidRet prevailed over WhiteRa to rapturous applause from fans gathered at our booth. The Zerg player won all four games against his Protoss opponent, including the final game where the two swapped races to change things up a bit.
And earlier today, it was JaeDong who snatched victory from WhiteRa.
If you're at gamescom, stop by our booth tomorrow at 18:00 to see HasuObs face off against Socke. Which of these two German Protoss players will prevail?
We managed to grab replays from the matches of LiquidRet against WhiteRa. Click here to download them!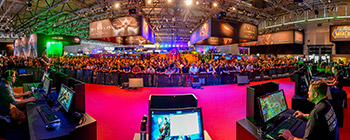 More pictures from the event are available in our 'Media' section.