StarCraft II is a lot of things, but at its heart it's a fierce strategy game rooted in fast-paced competitive play. Supported by a dedicated community of eSports enthusiasts playing and watching from around the globe, StarCraft II matches are now an exciting fixture within the growing professional gaming scene.
Join us on this journey and relive some of the best moments in competitive StarCraft II over the first year.
Electronic Sports League—So Many Tournaments!
The Electronic Sports League (ESL) organized numerous live and online tournaments including Go4SC2, its recurring flagship cup, and its regional counterparts in several European countries, North America, and Asia. The ESL also runs other events including the Viking Cup, Sennheiser Cup, and others aimed at newer players as well as professionals.
The ESL Pro Series catered to a wide audience with country- and region-specific leagues, where the best of the best for each territory battled it out. EPS games took place in Germany, the United Kingdom and Ireland, France, the Nordic region and Poland, and they never failed to attract large crowds to cheer on their favorite players at the live events.
Another ESL tournament, which has historically been among the most applauded by players and spectators alike, is the HomeStory Cup. Run by Dennis 'TaKe' Gehlen, a former high-level Warcraft III player, now caster and organizer, this laid-back event features some of the world's top players. It's known for its fun commentary by an ever-rotating cast of favorite stars. The HomeStory Cup always presents a slightly different atmosphere and makes for one of the most entertaining shows in eSports.
Lastly, there's the ESL's largest event: Intel Extreme Masters. Now entering its sixth season (its second featuring StarCraft II), this huge event has brought us many fond memories and high-quality games, with a total of six tournaments played all over the world. Organized in three different continents, IEM gave the competition a truly global dimension and has paid out over $90,000 USD in prize money to date.
Who could forget Stefan 'MorroW' Andersson's last-minute entry into the tournament? His remarkable victory showed everyone the power of the five-barracks reaper strategy in competitive play. Other memorable moments included Jian Carlo 'Fenix' Morayra Alejo with his numerous TvT comebacks, and Andrew 'mOOnGlaDe' Pender winning the SEA Championship over players like Dai 'Loner' Yi and Yang 'Sen' Chia Cheng. Finally, there was the IEM World Championship, where the best from all regions clashed in a closely-matched fight for prestige and glory.
Let's see what happens in Season VI, which kicked off last month at gamescom in Cologne, Germany!
DreamHack—Share The Gaming Experience
Moving on to another European highlight, DreamHack, the organisers of the world's largest computer festival are featuring a prestigious series of tournaments with great matches and production, insane levels of excitement, and generous prize pools. With over $70,000 USD paid out to the worthy winners to date—set to reach over $150,000 USD by the end of the year—it's a premier series every StarCraft II enthusiast should be looking forward to.
It kicked off almost eleven months ago with the DreamHack Winter event, which probably still keeps commentator Sean 'Day[9]' Plott up at night. He co-casted the final with Shaun 'Apollo' Clark, featuring the eventual winner, Santeri 'Naama' Lahtinen, and contender Grzegorz 'MaNa' Komincz. This tournament made it into the eSports history books thanks to the truly amazing back-and-forth matches—it was a show we won't forget anytime soon.
The success of that event continues into 2011 with the DreamHack SAPPHIRE AMD Championship, a series of tournaments made up of various formats that feature four major live shows. Remember the DreamHack Stockholm Invitational with its great production, atmosphere and the incredibly tense final? The immaculate play of Jang 'MC' Ming Chul, recently voted by fans as "The Sickest Nerd Baller" meeting "Beast from the East" Aleksey 'White-Ra' Krupnyk's "special tactics" is surely worth a watch.
The recently concluded DreamHack Summer once again left us breathless. DreamHack just has a great track record for showing spectators the most intense finals in all of StarCraft II. The final match between Chris 'DreamHuK' Loranger and Jang 'Moon' Jae Ho was simply unforgettable. We can only patiently wait for the upcoming DreamHack events which will take place this week in Valencia, Spain.
GomTV's Global StarCraft II League - The Toughest Competition
While StarCraft II eSports had been popular since release, it exploded with the start of the GSL. It launched on August 28, 2010: the day when the first open tournament of the Global StarCraft II League was organized and produced by GOMtv.
The whole world tuned in to watch the high level of production, follow the world's best players competing for a total prize pool of ~$189,000 USD, and listen to two popular commentators in StarCraft: the casting Archon—Nick 'Tasteless' Plott and Dan 'Artosis' Stemkoski. The inaugural winner, Kim 'FruitDealer' Won Gi, the zerg hero with a totally unpredictable style, will always be an icon. He was so impressive in that tournament that he inspired our Senior Art Director Samwise Didier to create a special piece of art in his honor.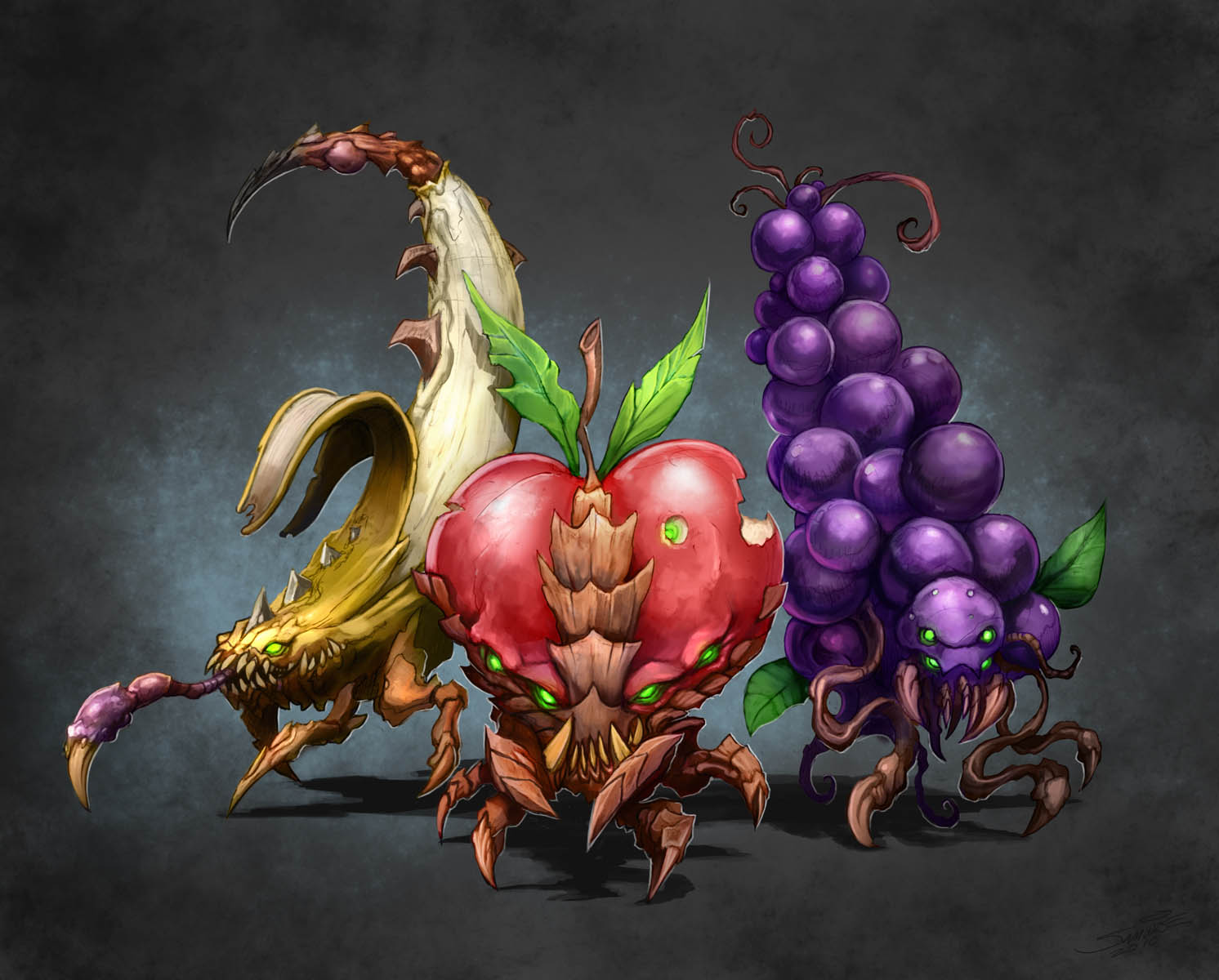 The GSL has undergone several format changes and grown significantly over the last 12 months, maintaining its prime position in eSports. We have seen some of the best non-Korean players participate, most notably the two time semi-finalist Jonathan 'Jinro' Walsh, Greg 'IdrA' Fields (who qualified for all GSL events he ever took part in), and late arrival Chris 'HuK' Loranger, who has consistently maintained his Code S status. In March, the GSL featured a World Championship that brought a nail-biting clash in the South Korea vs. The World exhibition match—setting up a truly global event. It was a really exciting show to watch, ending with South Korea making an impressive comeback to win 8–7.
The league has created real stars, like the two-time champion Jang 'MC' Min Chul, as well as Lim 'NesTea' Jae Duk and Jeong 'Mvp' Jong Hyeon, who both have just recently won their third crowns.
GSL continues strong into its tenth season, adding the Global StarCraft II Team League and giving out roughly $1,500,000 USD in prize money. We have seen the first non-Korean team compete in GSTL, and three more top Europeans, Marcus 'ThorZaIN' Eklöf, Kim 'SaSe' Hammar and Johan 'NaNiwa' Lucchesi, have recently joined their ranks to compete in the GSL. The final of GSL October will be played outside of South Korea for the first time, taking place at BlizzCon 2011 in Anaheim, California. GSL also runs an exchange program with another major eSports organization: MLG, aka Major League Gaming.
Join us tomorrow for the second part of the article and read about the other exciting StarCraft II eSport events from the last year.